Creative Writing Winners 2018
Read the shortlisted Poetry and Short Fiction works from the 2018 Prize, in the Creative Writing Anthology 2019.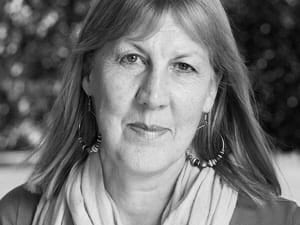 Poetry – Patricia Robertson
Fox Says
Patricia grew up in northern Canada and received her MA in Creative Writing from Boston University. Her poems have been published in the UK, Ireland, Canada and the US. She is the author of two collections of short fiction (City of Orphans and The Goldfish Dancer and currently teaches at the University of Winnipeg in Manitoba.
Read Patricia's winning work here.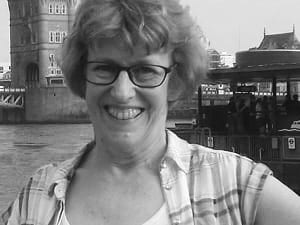 Short Fiction – Veronica Swinburne
A Champagne Celebration
Veronica lives near Bolton and works in Central Manchester. Swinburne has been planning to write a novel for the last 50 years, and after writing lots of different versions for opening chapters, she has recently complete a first full draft for the book. A Champagne Celebration is the first short story she has submitted for the publication.
Read Veronica's winning work here.
---
Shortlisted Writers 2018
Alexandra Strnad – Longformacus
Alexandra Strnad – Chypre
Anne Cousins – HARE
Breda Spaight – The Shoes He Makes for Me
Clare Weze – Green Lizard on the Wall
Dena Fakhro – Seagulls serenade the red-light promenade
Dominique Hecq – Unfinished genesis
Elisabeth Reidy Denison – Elegy for the Burn
Elisabeth Sennitt Clough – Footnotes to A Marriage
Ella Duffy – Odyssey
Emily Bullock – Tombstoning
Ethan Veenker – A Thin Little Ribbon Nailed to Earth
Fiona Larkin – Georg Rides the U-Bahn
Fiona Robertson – Descent
Fiona Ashley – Nutrire
Francesca Moroney – Me Gusta la Música
Gail Anderson – Ambit
Geraldine Mitchell – This Was Not the Deal
Geraldine Clarkson – The House Dreams, EDWARDIANA, Brother, My Mother, the Monsoon
Giles Newington – Vines
Hannah Austin – Your Average Wednesday
Hester Bradley – On sending a text with a cat in your chest
Howard W Robertson – All the Evil of the World
Isabel Bermudez – Madonna Moon
Jayne Marshall – The History of Beauty and Ugliness
Jeffrey Ricker – Multiverse
Jessica Wilkinson – Serenade


Joanne Done – Blossom and the Tiger
Jupiter Jones – The Quickening
Karen Massey – Watching The Old Man Lying In A Hammock Over At Duffy's Farm
Katherine Lockton – On Loss
Kylie Whitehead – The Afanc
Lara Irvine – Mineshafts
Laura Shore – The Lie
Laura Potts – The Picture in Ireland
Linda Grierson-Irish – Mrs Dawson
Liz Allan – The Light of Things Long Buried
Mariah Whelan – Viaduct Mary Jones – You Are…
Mercedes Webb-Pullman – A sackful of heads
Michael Collins – The Census Taker Reminisces
Natalie Whittaker – 96
Peter Wallis – WHAT CAN I SAY?
Ronald Dzerigian – While Lunching at the Base of Trump International Hotel & Tower
Ruth Wiggins – Making Water
Sarah Tucker – Exit Stage Right
Scott Aichinger – Three Sketches of Someone Who Will Die Young
Sharon Black – Letter Home, 1920
Simon Linter – Laundry
Sukh Brar – This Home
Susan Hodgetts – How to Begin
Suzanne Whitney Ghadimi – Pixies
Tina Pisco – Imagine This Imagine That
Wes Lee – Catatonic
Xiao Yue Shan – Easier if we cried