Montréal-based artist Anne-Marie Giroux's practice focuses on creating highly poetic and conceptual projects through painting, sculpture and installation. The artist seeks to create a correlation between body, material and movement, "drifting" from shape to colour with fluidity.
A: You have a BFA from Concordia University in Contemporary Dance, Visual Arts, Theatre Studies and Cinema. What made you decide to pursue these lines of study?
AG: I first studied theatre, but soon realised that it was not my place. One day, in a theatrical improvisation class, the teacher told me that I had a natural way of moving and that I should think about taking contemporary dance classes. Chance led me to sign up for a body language class at Studio 303 in downtown Montréal.

I met a beautiful person who became one of my best friends and a close artistic collaborator. He convinced me to apply for the contemporary dance programme at Concordia University. We were both admitted! Throughout the three-year programme, I also took classes in painting, drawing, sculpture and cinema. It was a real happiness: I had finally found my way.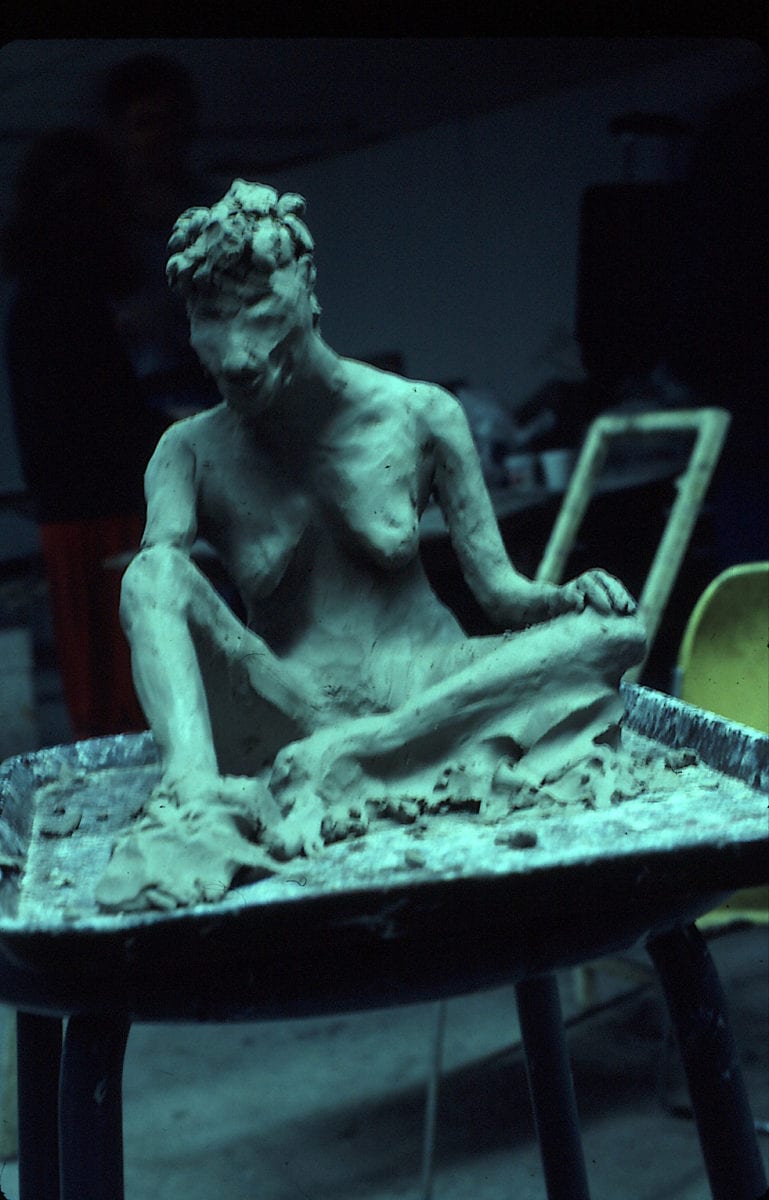 A: As a multidisciplinary artist you have worked across dance, sculpture, performance, film and video before settling on visual art. Why did you decide to hone in on one medium, and what did you take away from your previous experiences?
AG: Creating choreographic works involving dance, sculpture-performance, film and video art takes a lot of time and we can't do everything ourselves. We have to find a place to rehearse, a place of diffusion, dancers, a team of collaborators for the lighting, the scenography, the costumes, the music, for the shooting, etc. And it's necessary to coordinate everybody in an agenda which can stretch for two or three years before finally being able to present the work. It's exciting but it can be very exhausting as well. 

When I decided to stop everything, I wanted to continue the creation but into new horizons. I set up a workshop in my apartment. I could finally explore without constraints, at my own pace, at home. For six years, I explored different techniques, until I realised that my work was taking shape and that I could challenge myself to present my first exhibition. All of this happened because of my background in creating multidisciplinary choreographic projects. It really helped me to believe that I could pursue a career in visual arts.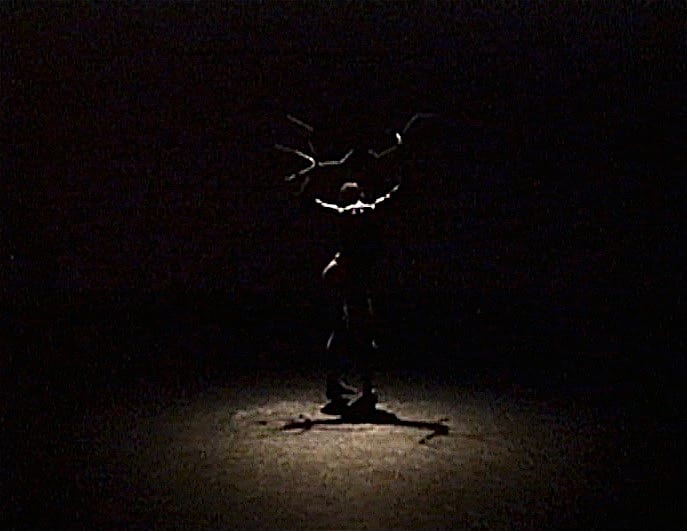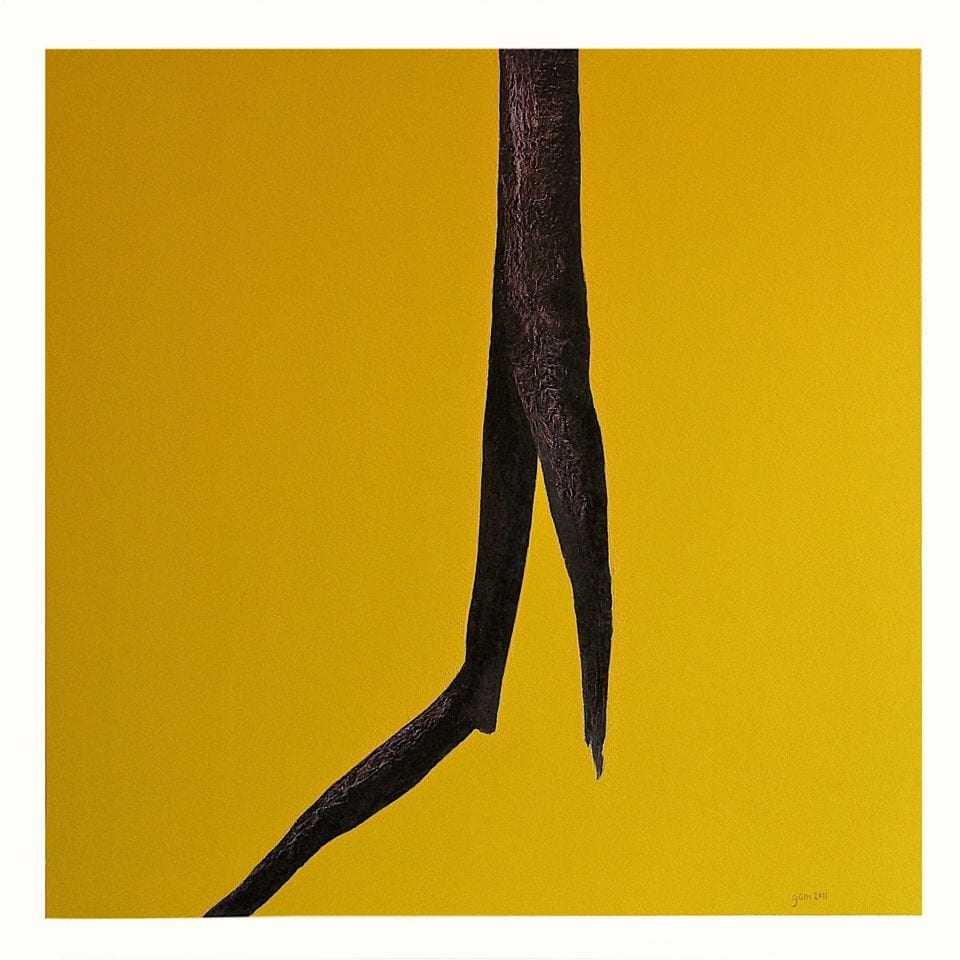 A: Your practice is based upon a concept called "body-matter." Can you describe this idea in further detail and how it manifests in your two-dimensional paintings?
AG: The "body-matter" or le "corps-matière" in French is the basis of my artistic research. From the very beginning of my approach, whether with the mediums of dance, sculpture-performance, film and art video or later with the visual arts.

It's from that concept that I seek to establish a correlation between "body, material, object, being or state of being and movement", that my work originates. When I work on a series, this concept is manifested through the creative process to which I attach great importance. It's not always easy to perceive the concept in the work when it is finished. It can be very subtle or very obvious. For example, the body, the material and the object can be perceived very easily in a two-dimensional work.

On the other hand, if I only focus on expressing the notion of movement, it can become very subtle. In dance or in performance, the dancer or performer only needs to breathe so that the audience already perceives the movement. In a painting, movement can manifest itself in many ways. This can be seen through the oscillation of the applied colour, the stroke of the brush, the composition of the painting, through the emotion felt and even in stillness.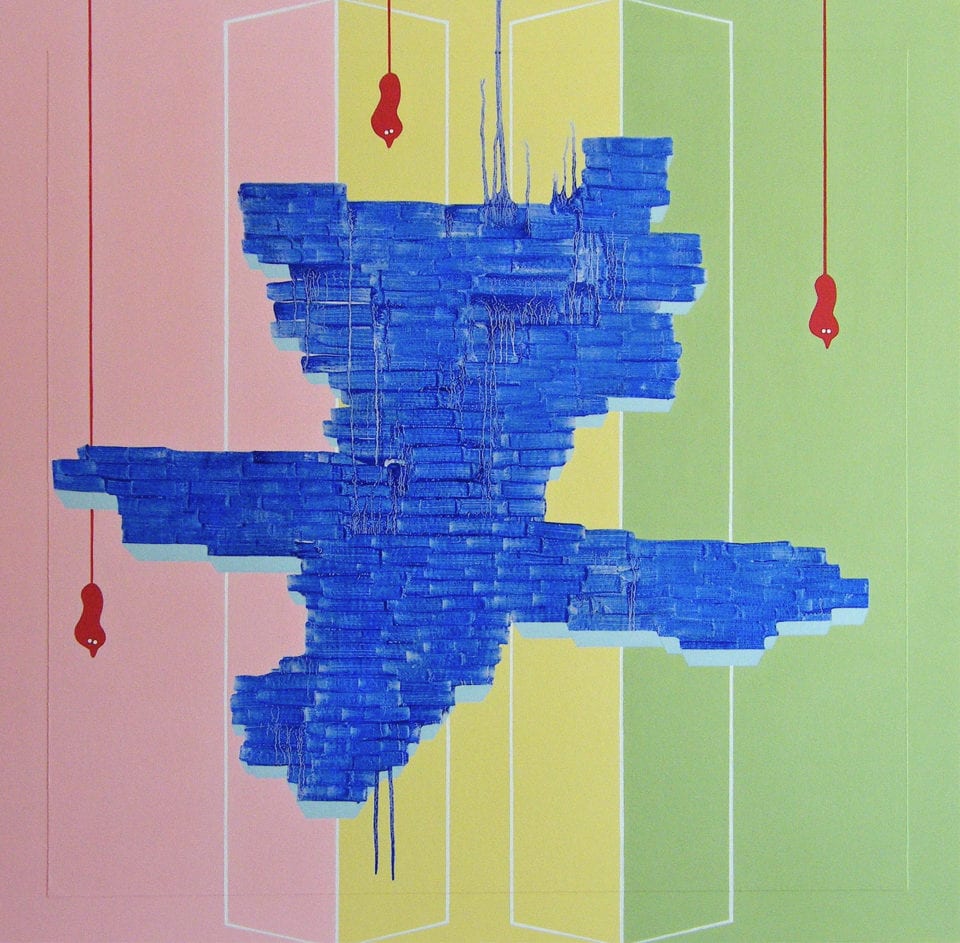 A: The works move between colour and shape, material and movement. They're often abstract in this way, building upon faces and lines in the composition. What are you hoping viewers take away from these works?
AG: Yes, there's a form of abstraction in my work. I always work from a theme that appeals to me and that allows me to deepen my research through the creative process. What I try to communicate is expressed through the idea, the purpose, as well as the colour, texture and architecture of the work. And sometimes through an emotion, a state of being or even through the title of the work. 

What matters most to me is to make sure that the work is not framed in a single perception. That way, the visitor who observes the work will have the freedom to do and live their own interpretation.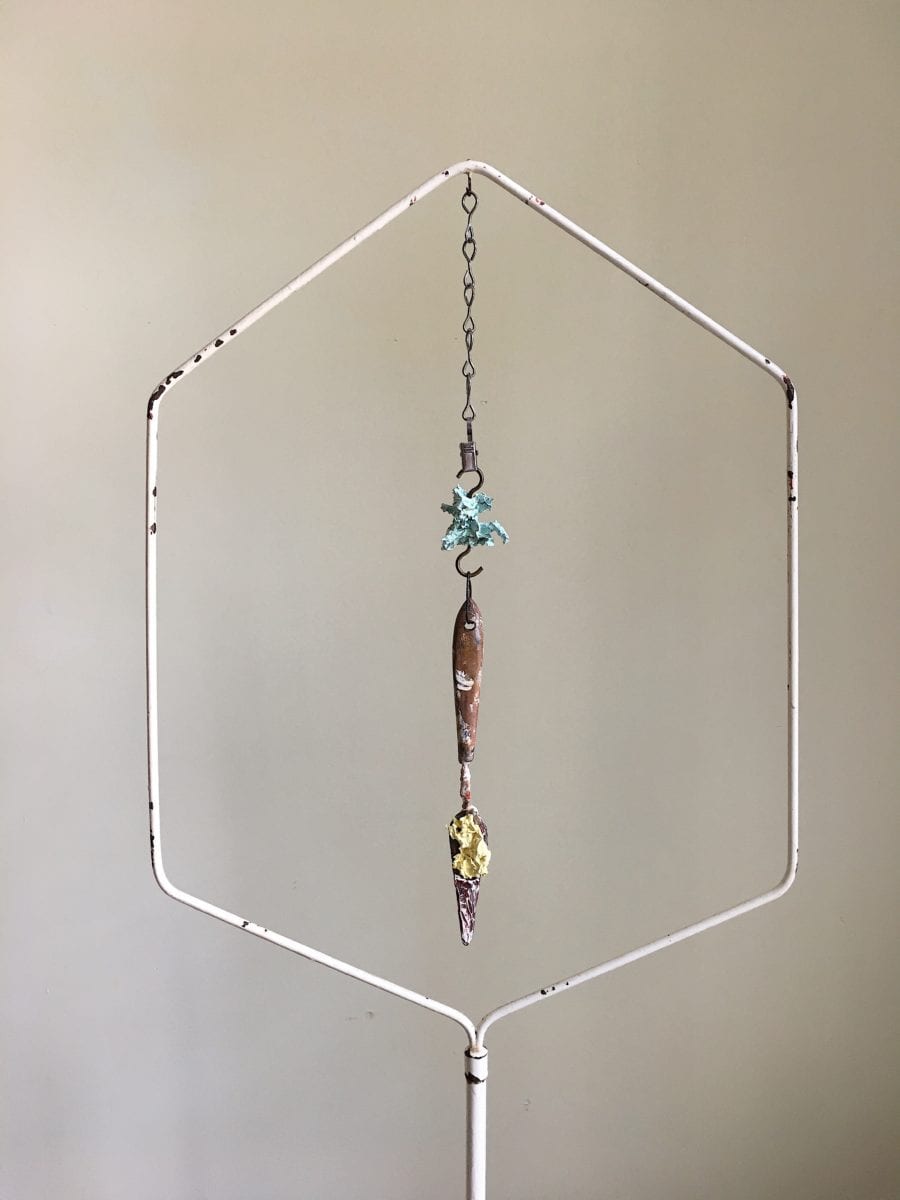 A: How long have you been working on your Drift and Drifting series? What drives you to continue the series?
AG: I started the Drift series in 2014. Then the Drifting series took shape in 2017. In October 2018, I presented both series in a solo exhibition in Montréal. This led me to conclude the cycle by creating the Drifts installation. The installation was presented in Toronto in February 2019.

I'd like to continue the work and find a suitable place, here in Québec or abroad, to present the entire triptych in one space. The ideal would be to be able to present everything in a disused building. A place that would bring a sensory experience to the feeling of drift.
A: Would you describe the pieces as abstract?
AG: I often describe my work as figurative-abstract. But above all, it's conceptual. I'm interested in the poetic impact of each of my works; this is another very important aspect of my approach.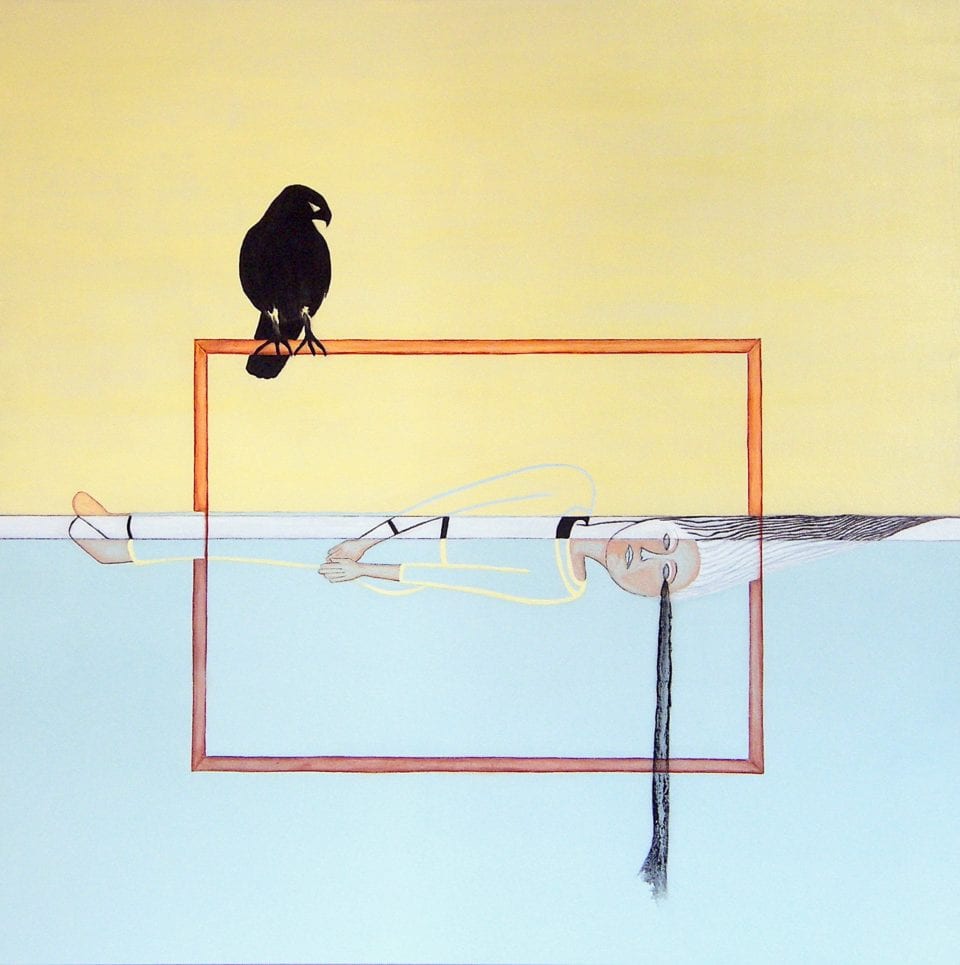 A: Where do you draw a line between poetry and visual expression? Are the two inherently linked?
AG: How to answer this question? I think there are different forms of visual expression. There is definitely in art. Poetry, which is an art of language, seeks among other things, to express the image. For my part, I'm particularly interested in the poetic expression that evolves while creating a project. I believe that in my work, both are intrinsically linked.
A: What are you currently working on?
AG: I've just started a new series entitled Nocturnes. I want to explore the particular brightness that can only be perceived during the night and, again, in a very poetic way. This new project will consist of two-dimensional and three-dimensional works. I'd like to incorporate a sound aspect and present it as an installation. I can't say much more because I'm really at the beginning!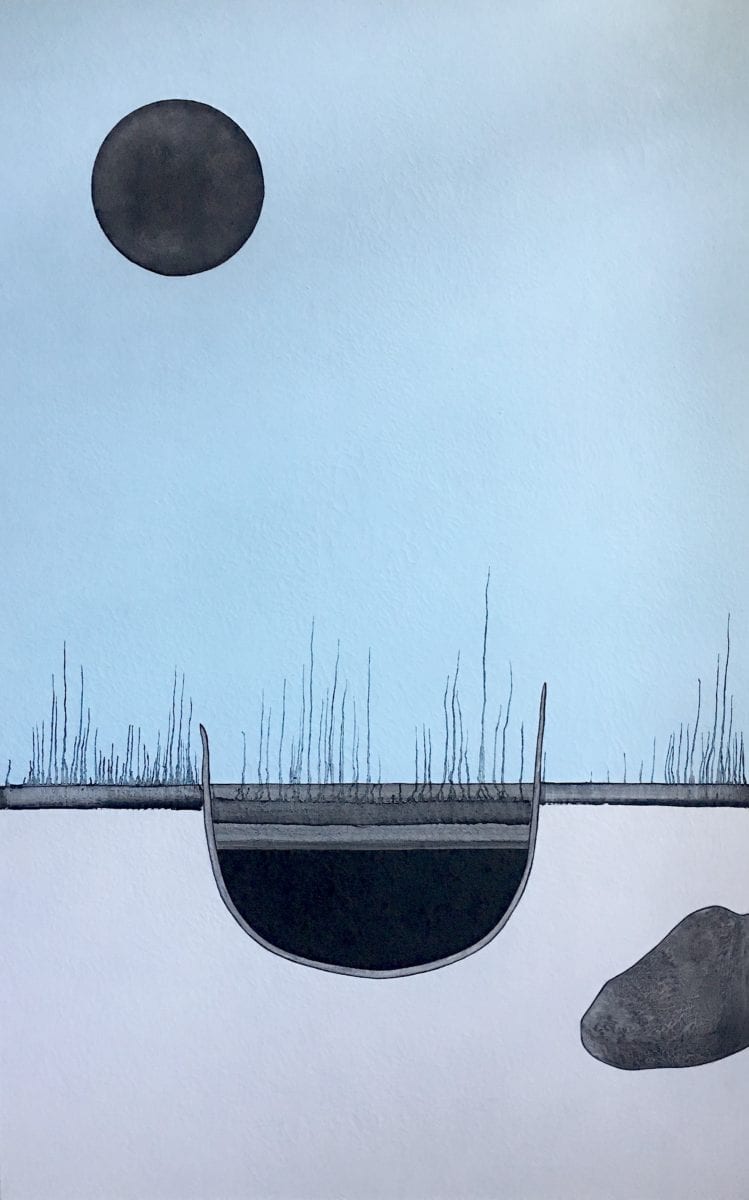 A: You have been selected for the 2019 Finalist Group Exhibition at The Salt Spring National Art Prize – tell me about the piece that is currently being displayed: Dérive à la dérive.
AG: This piece is somehow a kind of still life, three-dimensional and fragmented. The work proposes a questioning of human and artistic drift, a topic that I've explored since 2014. It can suggest a loss of control, a deviation, or simply express a will to be carried where movement will lead. The work is composed of both traditional materials as well as from recycled materials.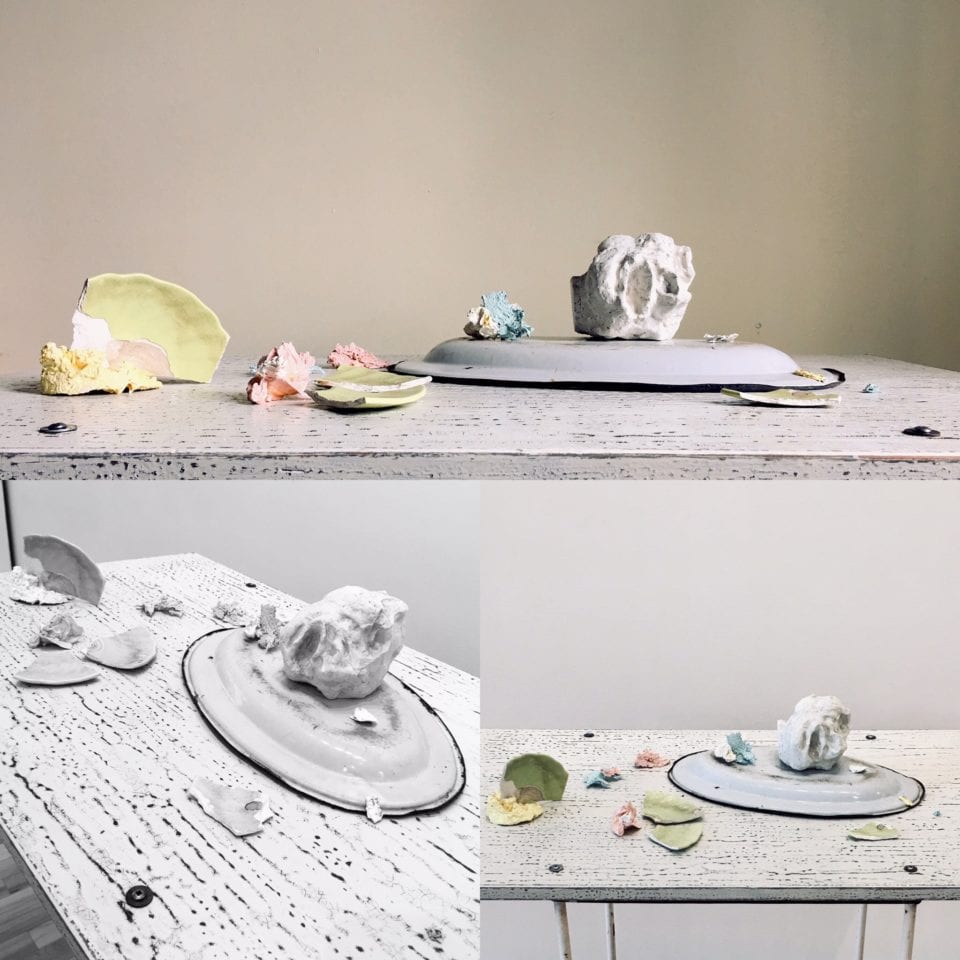 A: Do your personal experiences in exhibiting work in Québec differ from when you exhibit work outside of the province?
AG: Yes. Especially when I can move around and be present at group shows outside of the province. This allows new exchanges with the different artists who participate in the exhibitions. I can discover and see on the spot works that I could not have seen otherwise. It's really rewarding and motivating!

It also allows you to discover a new audience and to exchange completely different points of view.  It is important to exhibit at home, but it is also very important to exhibit elsewhere. It allows to discover new perspectives.
A: Where will your works next be exhibited?
AG: The Gala Awards Night for The Salt Spring National Art Prize will be on 19 October. The nine finalists and winners will be announced that night. So I've got my fingers crossed!

Otherwise, I'm waiting to know if I will be part of a group exhibition in New York in early 2020. I'm planning to exhibit my new series Nocturne in Montréal by the end of 2021. And I'm also trying to be part of a group exhibition in London – it's part of a dream I wish to happen. That would be just wow.
Visit the artist's website at www.anne-mariegiroux.com
For further information regarding The Salt Spring National Art Prize visit www.saltspringartprize.ca
The work of Anne-Marie Giroux appears in the Artists' Directory in Issue 90 of Aesthetica. Click here to visit our online shop.